Busrama International Annual
-an year book of Japanese buses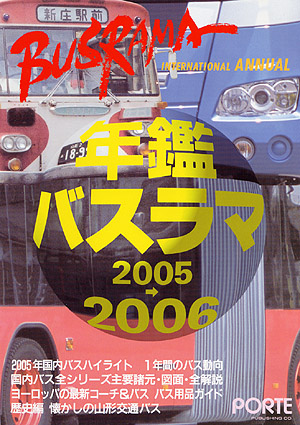 Busrama Annual 2005-2006
published: XII 2005
A4, 112 pgs
Price: JPY 2,000.-
---
Contents
Main Topics of Domestic Buses
Japanese Bus Catalogue
Overseas "Bus World 2005"
History: Historic photos of Yamagata Kotsu
-Main topics of Japanese domestic buses 2005;
New model and trend of route buses / Buses at the Expo 2005 in Aichi / Topics of classical bus / Bus services for small demand, etc
-Movement of Japanese domestic buses 2005;
Operations, routes, fares, services, companies, systems, vehicles, new models, manufacturers, etc
-Japanese bus catalogue;
A catalogue of buses which sold in the Japanese domestic market, from micro bus to large coaches and low emission buses. Also the movent of domestic buses included.
-A guide of the recent bus equipments
-Overseas information "Bus World 2005"
The most up-to-date European buses and coaches exhibited on "Bus World 2005".
-The history;
Historic photos Yamagata Kotsu (Yama-ko Bus) from 1925-1991.
-Facts and figures